COLLINS HIGH SCHOOL
RUNNING TITANS - Track & Field and Cross Country
Welcome Running Titan Nation !!!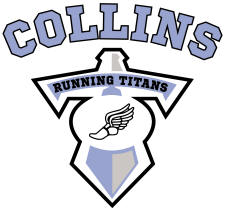 Winter Reading: The West Point Way of Leadership
Click on the book below for Amazon's description of the book
th
SCHEDULE: Key - Events / info in grey, competitions in pink, practice in green (non-mandatory) / (madatory), and meetings / activities in orange.
CONTACT: Coach Sanderlin, Director of Track & Field and Cross Country for Collins HS & West MS: georgesand@aol.com
Note: For track and field practice we will meet Outside. If it is below 40 degrees we will go outside.
Date
Time
What
Notes
Jun 4 - 24
8:00 AM
Meet Ups
Note: you must have a current physical on file to participate in the "Meet Ups."
Mon. & Wed. meet at Clear Creek (basketball court)


Tues. & Thurs.

meet at Red Orchard (meet by big white barn)
June 5-8
Maximum Velocity Track & Field Camp
Track camp at Centre College coached by Olympians. For info go to MVTFA. There are scholarships available through the KTCCCA. The deadline is April 20. Click on KTCCCA MVTFA Scholarship.
June 8
8:30 AM
USATF JO's (Jr. Olympics) - Danville
This is the USATF KY Assoc. meet (Junior Olympics - age group competition) at Centre College in Danville. Athletes who place well in this meet, then go on to compete in the Region 5 USATF JO meet at the Univ. of Louisvllle on July 5-7. USATF KY Assoc. Meet Info. Note: this meet also includes Masters' competition (women > 35 and men > 40).
June 11
7:15 PM
High School Awards Banquet
Awards banquet at the Blair Center at Southside Elementary school. We will have deserts, review the season and present awards. Please bring a desert or sign up to bring something else.
June 13-16
5:45 PM (13th)
Vault in the Ville (at 4th St. Live)
Come and see some of the best pole vaulting in the country in the air conditioning at 4th Street Live in Louisvlle. Vault in the Ville: HS boys < 11' go 6/13 at 5:45 PM while the Emerging Elite vault Fri. 6/14 at 8:00 PM and the Elite (pros and olympians) go Sat. 6/15 at 7:30 PM. See the Vault in the Ville schedule. Vault in the Ville video of an Elite pro.
Jun 25 - Jul 9
KHSAA Dead Period
Athletes and coaches must not be in contact during this period.
July 5-7
TBA
USATF JO's (Jr. Olympics) Region 5 Meet
This is the USATF Region 5 meet at the University of Louisville. Athletes who advanced from the KY Association meet on June 8th compete here.
July 14-19
Nike Smokey Mt. Running Camp (SMRC)
Coach Sandy will be taking (the top 5) the boys this year to UNC-Asheville to the SMRC where he has a been a coach for over five years. They will be attending the July 14-19 session. He will be driving a 15 person van leaving early on July 14 and returning around 6 PM on July 19th.. If you want to go down with the boys (we still have a few spots left) please let Coach S. know by June 1st. The SMRC is one of the oldest and best endurance camps in the country. Spots will fill up by May 30th - so register ASAP.
Jul 22
TBA
1st Day of Mandatory XC Practice (paperwork day)
You must report with

all

of your paperwork (see highlighted info in yellow below) in order to be eligible to practice. Partical paperwork will not be accepted. This is the only practice that will be open to the parents.
Jul 26-27
TBA
Bluegrass State Games T & F
In Lexington at the UK track & field. Bluegrass State Games.
Documents - You can not practice with the team until you have submitted all of the required docs that are highlighted below in Yellow . Partial paperwork will not be accepted.
Item (Note: "Must have" (required) docs highlighted in

yellow.

)
Action
1
Athlete Information Form (AIF) - XC: Collins AIF

PRINT OUT,

COMPLETE AND TURN IN

TO COACH SANDERLIN ASAP (By July 22 )

NOTE: You are NOT on the roster until you complete this and turn it in

. HS AIFs go to Coach Sanderlin and MS AIFs go to TBD.

2
MLCHS Team Values - XC (coming soon)

Print, read and review. Both athletes (initial and sign) and parents must sign the last page and

turn in on or before before you can attend official practice.

3
Athletic Participation Form and Physical (good for one year)
MUST BE ON FILE

WITH

BEFORE YOU CAN ATTEND OFFICIAL PRACTICE. If you have completed one from another sport, let a coach know.
4
Drug Testing Procedures & Consent - High School Only! (good for school year 2018-19)
MUST BE ON FILE

BEFORE

YOU CAN ATTEND OFFICIAL PRACTICE

. Note: Middle school does not have to complete this form.

Equipment List and Training Objectives (T & F)
Print out, read, and put in your MLCHS Running Titan folder.

Must bring

water bottle, light / bright colored clothing (no dark pants and shirt),

and running shoes to practice! Must be WORFY (White, Orange, Red, Flourescent, Yellow) compliant!
Track & Field Meet Schedule - Collins &

West

Print out and put in your Running Titan folder.
Collins Varsity Letter Criteria
Print out and put in your Running Titan folder.
Training Log
Log your workouts (type), mileage, sleep, what you eat, how you feel, etc. You can not improve what you don't measure!
Parent Volunteer Application
Parents must fill this out and submit it to the Powell Miller, Athletic Director or Leesa Stivers, Family Resources and Youth Services Coordinator, before they can volunteer for and event. It takes several weeks to process this, so don't delay.
Transportation Waiver Forms

Parents must complete these and return to a Coach. Note: they must be notarized.

Green form is for one-time pickup after a meet. (vs. riding the bus) There is an option for pickup after all meets.
Yellow form is when you provide for transportation and SCPS does not (seldomly used).

Pink

form is when you provide for transportation to and from any meet(s) during the entire season (this is the most common and comprehensive form to use).
Kentucky MileSplit's Border Battle Preview

Meet the new Collins Head Coach - Q & A with Coach Sanderlin
Dynamics, Drills, Warm Up, Cool Down, and Strength Training Info
The Running Titan Newsletter - For the best in Running, Jumping, Throwing & Walking
Articles
Videos: